Content in English below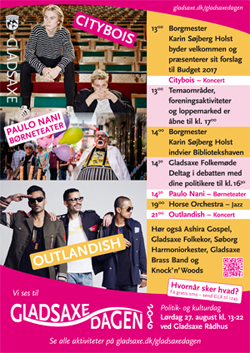 Lørdag d. 27. august er det tid for Gladsaxedagen 2016, den årlige politik- og kulturdag i kommunen. Der er aktiviteter omkring rådhuset fra kl. 13.00-22.00. Se hele programmet her: Program for Gladsaxedagen 2016
Netværk for Flygtninge og indvandrere i Gladsaxe deltager selvfølgelig også. Du er velkommen til at komme og få en snak med os, uanset om du er flygtning/indvandrer eller måske kommende frivillig. Du finder Netværket i temaområdet Flygtninge – ny medborger i Gladsaxe fra kl. 13.00-17.00.
Husk at kigge forbi Gladsaxe Folkemøde i Borgercaféen, hvor du kan debattere med byrådspolitikerne. Kl. 16 er emnet Velfærd på forkant – beskæftigelse, og her handler det bl.a. om, hvad den største udfordring i forhold til integration og beskæftigelse af nye flygtninge i Gladsaxe er.
Læs mere om Gladsaxedagen 2016 på www.gladsaxe.dk/gladsaxedagen
– – – – – – – – – –
Meet the Network at Gladsaxedagen 2016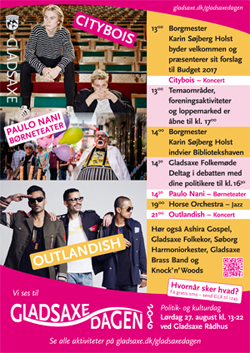 Gladsaxedagen 2016 (The Gladsaxe Day) takes place Saturday August 27, it is a day with politics and culture. There are activities in the Town Hall area from 1.00-10.00 p.m. View the programme here: Program for Gladsaxedagen 2016 (only in Danish).
Of course the Network for Refugees and Immigrants in Gladsaxe participates in Gladsaxedagen. Please come and have a chat with us if you are refugee or immigrant – or if you want to be a volunteer. You can find the Network in the area called Flygtninge – ny medborger i Gladsaxe (= Refugees – new citizens in Gladsaxe) from 1.00-5.00 p.m.
At 4.00 p.m. you can debate with the city council politicians at Borgercaféen about the subject Welfare and employment. The debate is among other things about the question What is the biggest challenge in terms of integration and employment of new refugees in Gladsaxe?
Read more about Gladsaxedagen 2016 at www.gladsaxe.dk/gladsaxedagen (only in Danish)